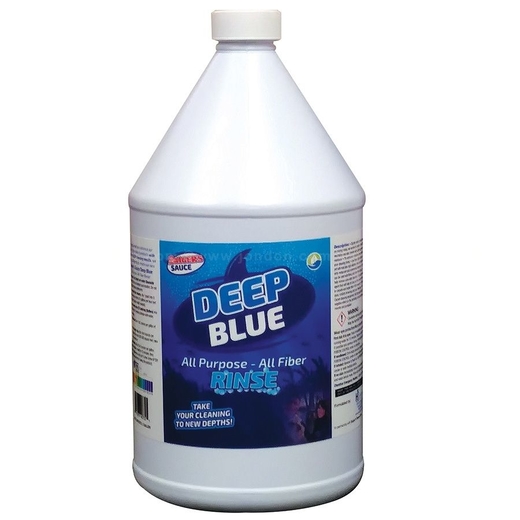 Saiger Sauce Deep Blue Rinse
Saiger's Deep Blue is a versatile rinse agent that neutralizes cleaning residues while providing deep-down cleaning and conditioning that leaves carpets with a bright look and soft feel.
Description
Deep Blue is an acidic-to-neutral rinse (depending on mixing ratios) that complements the cleaning power of your alkaline pre-spray. It neutralizes cleaning residues, but also provides an added boost of cleaning power to remove dirt and soiling. It's safe for all fiber types, and safe for all equipment.
Form: Liquid
pH: 4.5-6
1 Gallon
Usage
Directions:
For carpet and water-cleanable upholstery:
Test in an inconspicuous location. Do not mix with other cleaning detergents.
Mix according to dilutions listed below. Apply as indicated.
For most truck mounts, mix 1 quart of Deep Blue into 5 gallons of water, set meter at 2 gallons per hour (set higher flow for heavier soils if needed)
For truck mounts using CC metering (Butlers), add 1 quart of Deep Blue to your 2.5-gallon container, fill with water. Meter as usual.
For portable units, mix 1 to 2 ounces of Deep Blue per gallon of water.
For use as a spray rinse, mix 4 to 6 ounces of Deep Blue per gallon of water; apply at the rate of 200–500 square feet; rake into carpet; extract.
For urine stains:
Dilute 6–8 ounces per gallon of water.
Apply using a pump-up or electric sprayer. Saturate the area and allow to dwell for 15 minutes.
Extract the area.
Apply enzyme-based deodorizer after saturation and extraction.